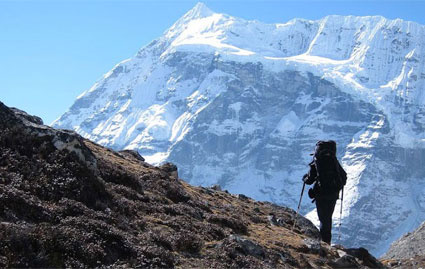 Nepal is a landlocked country located in the South-Central Asia. This small yet adorable country is listed as one of the poorest nations in the world. However, the true wealth of a country must not depend on how much money it holds, but in its nature, culture and people. Nepal happens to be one of the richest in these three essential elements. With eight of the top ten highest peaks in the world, Nepal has become a most popular target for all the mountaineers and trekkers.
City during the  Trekking in Nepal.
Trekking in Nepal is famous all around the globe. More than 50 percent of tourists visit Nepal for this sole purpose. Kathmandu is the first place every foreigner set their foot on. This capital city in itself is an amazing treat to people who've come from faraway lands to explore Nepal. Kathmandu is called 'the city of temples'. As the given title, the valley consists of a number of temples, some even enlisted in the UNESCO World Heritage Sites like Pashupatinath Temple, Boudhanath Stupa and Changu Narayan Temple. Pokhara is another major place for traveling in Nepal, a renowned destination for foreigners. The city of lakes is popular for sightseeing and views of the great Annapurna Range to the north. Pokhara acts as a gateway for the most of the treks including Upper Mustang Trek, Machhapuchhre Base Camp Trek and Annapurna Base Camp Trek. If you are on your own to Pokhara, some of the main places you must go to are World Peace Pagoda (Shanti Stupa), Sarangkot Hill, Chamera Gufa (Bat Cave), Mahendra Cave and Davis Falls. In case if you are seeking an adventure, you can get on a thirty minutes drive to Sarangkot at the altitude of 1,592 m. Sarangkot is the place from where you take off your paragliding flight over the city of lakes and when you are flying with the clouds you can catch an amazing view of Manaslu, Dhaulagiri, Annapurna and Machhapuchhre. The wildlife and scenery  here cannot be matched anywhere in the world.
Trekking in Nepal is a mostly appreciated activity for every trekkers and nature enthusiasts. It is more than just ascending and descending dry hills and snowy mountains. It is about relishing every bit of the moment while you are walking skywards, downhill and deep inside the mountain wilderness passing through the densely colorful rhododendron forests. Meet people of different ethnicity in each of your trek. They will leave you some vital lessons in life that it is on sweet smiles that you give to others can make your day a little better. Small children running yaks on the foothills of great Himalayas creates a kind of joy inside you making you want to be them for a while. These people have their way of living life, an untouched lifestyle that they feel proud of. They are the true preservers of nature. They worship nature, mountains are their gods. Prayer flags, stone monuments and monasteries in the mountains are the evidence that they have an utmost faith in their god. In Nepal you will witness unity in diversity. People belonging to distinct religion and backgrounds live together in harmony. They are delighted to have been living in such mix variety of culture. People and their traditions differ from one community to another, but they have built a relationship that is strong enough to stop any misunderstandings to happen between them. Sherpas who live in the mountains will be your guide throughout your trek. Fully aware of the luxury of life outside the Himalayas, they still prefer life in mountains. Their unconditional support and overwhelming friendliness is something to witness as one travels the mountains.
Seasons for Trekking In Nepal.
Trekking in Nepal is mostly seasonal. Except for the monsoon season, trekkers and mountaineers visit mountains all around the year. Dry seasons are the best to opt for greater sightseeing and mountain views. Equipment and supplies are better to be limited for your trek to the mountains. Some essential items include a pair of hiking boots, a sleeping bag, dried fruits and a few necessary cloth items. Going green is taken pretty seriously once you start elevating. Consider taking water purification supplies so you can avoid use of plastic bottles. Binoculars, camera ad headlamps are optional. Do not miss to hear a thing when your Sherpa starts talking anything about altitude sickness. Take a note about how you can figure out altitude sickness. Some daily supplies such as soap, tooth paste, toilet paper can be purchased while on the way. Food is the only expensive thing in the mountains since it is difficult to transport it on the hill by the help of porters every day. Ask for assistance from the locals and your Sherpas if you need anything in addition. There will be a number of police check points to check your trek permits at any time. Bribing is exactly not the thing one must decide to do here. Things will get complicated if you even try. Restricted areas are banned for individual trekkers. There has to be one guide at least with you in the restricted area. For shelter, recently tea house treks have become popular which is basically a lodge with only few facilities. Resting at a house of a local villager can be organized too. In any event, it is recommended that you carry your sleeping bag since weather gets colder with the rise in elevation. Treks can be of different kinds, it all depends on what you want to experience.
From its ancient temples to the outrageous mountains, Nepal is a country of hidden mysteries. There will be more thousands of quests to be revealed just when you think you're done with your journey. Birthplace of the Lord Sidhhartha Gautam Buddha, Nepal is as old as any civilization. Despite us being a poor country, Nepal's history goes long back to the ancient times and is depicted in every historical site and structure. Nepal is perfect for any voyager seeking for unfolding mysteries of world. Sitting high at the world famous Himalayan range including Mt Everest, the country is a haven of tranquility and a place of wonders.
Conclusion of Trekking in Nepal.
Nepal has too many world famous different trekking route as per the trekkers choice , Long , short, remote, camping, Tea houses,
Such as Everest Base camp trek , Annapurna Base camp trek, Manaslu Circuit trek, Ghorepani poon hill trek, Kanchejunga trek, Annapurna Circuit trek, for more information visitors can visit www.subashk.sg-host.com