Duration of Time: 3.30 to 4:00 hours
Quick Enquiry: WhatsApp/Direct Call : +977 9851069596 (Subash), Email: [email protected]
Online Booking: Book this trip online
Read Reviews: Find us in TripAdvisor
---
Trip Facts
Total Tour Duration: 3:30 – 4.00 hours
Tour Cost: Starts at US$999
Min Person: 1-5 Pax
Best Season: Mid September to End of May.
People & Culture: Sherpa with Buddhist culture & traditions
Activities Summary: Take Flight from TIA to fascinating villages of the Everest region. You fly over to Lukla, Namche,Tengboche, Dingboche, Gorak Shep, EBC and Khumbu Glacier.
Landing at Everest Base Camp & Kala Patthar with breakfast at Everest View Hotel
Introduction
Everest Base Camp Helicopter Tour is the best way to witness the highest peak in the world; Mt. Everest (8848m). This tour is especially dedicated to those who want to skip the tedious trek. But, they also wish to enjoy the view of the Himalayas instantly.
Along with that, you will also enjoy the adventure of embarking on Everest Base Camp and Kala Patthar. Both of them are indeed the highest vantage points in the world offering stunning panoramic views. Thus, you can fully enjoy this adventurous tour without having to go through much.
So, are you ready to explore the most adventurous tour of your lifetime?
Nepal is a country of the great Himalayas and unseen natural wonders. There are fourteen peaks in the world that range above 8000 meters. And eight of them solely lie in Nepal. So, if you ever wish to experience the wilderness of gigantic peaks, Nepal is the best choice. It will offer you tons of amazing experiences that you'll cherish forever.
Among all the places, everyone prefers to visit the Everest region. It's surely because this mystical region offers all the uniqueness. It's the land of the world's famous treks like Everest Base Camp Trek, Gokyo Lake Trek, Everest Three Passes Trek.
All of these treks are amazing and have something peculiar to offer. However, these treks are strenuous, requiring a good deal of physical training & fitness. Along with that, it's time-consuming too. You will need at least 11 to 15 days for the completion of those treks. Hence, such travel options may not be preferable for the ones with minimal fitness & limited time.
Thus, to help with that, there are tours like Everest Base Camp Helicopter Tour. This tour is a wonderful trip to the Everest Region that offers uncompromising views of the high Himalayas. The best part is it's similar to any luxurious tour i.e. you don't have to bother much. All you need to do is choose this tour and enjoy the pleasant ride.
So, it's high time you say goodbye to all the strenuous journeys. And get ready to embark on the most fascinating experience of your life!!
On this tour, we will book a special chartered helicopter service. There, you will fly above the amazing mount ranges of Nepal and enjoy the undisturbed view. You get to soak into the Khumbu region's natural beauty including the snow-capped Himalayas, glaciers, and the whole settlement.
Your journey begins here in Kathmandu. On a good weather day, we will finalize your trip and head onwards. Earlier that morning, our representatives will take you to the Tribhuvan International Airport and your journey begins. In the tour, you will get a comfortable front-facing seat from where you can enjoy the unparalleled views of the world's highest peaks.
Right after you take off, the view of Kathmandu valley and surrounding peaks like Gauri Shankar & Ganesh will welcome you. The wholesome view of Kathmandu & its surrounding valley will mesmerize you.
Then, after some minutes, you will head to the Khumbu region. You will start getting an outstanding view of quaint villages surrounded by snowy peaks. As you move ahead, you will relish even closer views. You will be face to face with gigantic peaks like Mt. Everest, Nuptse, Lhotse, Khumbutse, Pumori, and Ama Dablam. Not only the mountains, but the fight also revolves above the Khumbu falls and Khumbu glacier.
After about half an hour, the helicopter lands at its vantage points i.e Kala Patthar (5545m) or Everest Base Camp (5364m). There, you can witness the magnificent 360-degree view and be even closer to the mountains. While you're there, don't forget to capture those precious moments. You will have enough time for it, so make sure you carry your camera & enough backup for it.
Once you are done, you will then head to Everest View Hotel for your breakfast. This is another thrilling highlight of this trek. Everest View Hotel is one of the highest placed hotels in the world. It offers amazing panoramas of the awe-inspiring peaks and well known for its hospitality. So, do enjoy a hot Himalayan breakfast with the whole Everest range surrounding you.
After this, your Everest Base Camp Helicopter tour comes to an end. You will eventually fly back to Kathmandu. But, before that, you might stop at Lukla for a few minutes for refueling. Then, you will head back to the helicopter and enjoy the final view of the Everest region Once your helicopter tour ends, our representatives will take you back to your hotel.
Highlights of Everest Base Camp Helicopter Tour
Embark one of the best helicopter tours to the mystical land of the Everest
EBC heli tour takes four hours, so perfect for explorers with limited travel time
The most efficient & easiest way to confront the highest peak of the world, Mt. Everest (8848m)
Full exploration with landing at vantage points like Kala Patthar (5565m) & Everest Base Camp (5364m)
Fly around the ravishing altitude of 6500-7000 meters
Spot about 20 highest peaks of East Nepal including Everest (8848m), Cho Oyu (8201m), Shisha Pangma (8013m), Pumori (8171m), Lhotse (8516m)
Witness the soaring peaks up close from your window i.e. only 20 miles away
Iconic view of Khumbu falls & Khumbu glacier from Everest Base Camp
A small break in Hotel Everest View, one of the highest placed hotel in the world
Have breakfast enjoying the mesmerizing view of Mt. Everest & the surrounding Himalayas
Fully customized option for Private as well as Group Heli Tour
The best choice for those who wish to escape adverse trekking & intense prep
Commemorate once in a lifetime experience at the world's top & create limitless memories
Similar articles you may like:
EBC Helicopter Tour Best Time
Everest Helicopter Tour can be possible at any time of the year. We just have to make sure that the weather condition is good and feasible to take off the helicopter. Hence, whenever you're here in Nepal, it's recommendable not to miss this lifetime adventure.
However, if you want the best experience during your tour, there are some suggestible choices. Here, we are going to divide them according to the favorable months:
i) March to June
These months are the best time to opt for the Everest Base Camp trek as a whole. So, no wonder it's a great time for the heli tour as well.
During these months, the average daytime temperature is around 15 to 20 degrees Celsius. Also, the weather is pleasant and the sky is clear most of the time. Undoubtedly, you get the best view of the surroundings and the Himalayas.
And as the temperature is moderate, you won't have to prepare much for extreme conditions. Likewise, the chances of flight cancellation are the least in these seasons.
ii) Mid-September to December
These months include the time when the autumn is at its best and the winter is just about to begin. Hence, you can take it as the second best option for the Everest Base Camp Helicopter Tour.
During these months, the average daytime temperature is around 20 degrees Celsius. Even though the morning and nighttime's temperature can be pretty less, the weather is favorable. Hence, it's comfortable to operate the helicopter trip.
But, as the weather might touch its extreme these months, there are a few chances of flight cancellation. So, you might have to prepare likewise for the tour then.
iii) December to March
These months represent the coldest time of the year. The temperature is so cold that it can reach even minus degrees in the daytime. So, such adverse climatic situations make the tour quite challenging.
But, you get the upper hand of clear weather and unhindered views of the Himalayas. As most places will be covered by snow, the views are epic. Just we have to make sure the weather is all fine to take off and for further exploration.
EBC Helicopter Tour Costs
No wonder, Everest Base Camp helicopter tour is the most exciting adventure to do. This amazing trip lets you enjoy stunning views of gigantic Himalayas & dramatic landscapes from the air. And the cost of such a lavish trip can range from USD 1000 per person to USD 3600 per person.
Simply, the Everest Base Camp helicopter tour cost provides you a range of options. And that is based on the type of tour you choose. Hence, it gives you a fine option to select the option as per your budget too.
Group Everest Base Camp Tour Cost
To join a group EBC tour is an excellent idea, especially if you are traveling single. You won't have to bother much as we'll arrange everything for you. You will be traveling with the best group of people from across the world. You get to interact with them while commemorating the lifetime experience.
In group, you will be sharing the helicopter expenses, so the cost is comparatively less. You can expect the price to be around USD 1000-950 per person. The cost will be the same for everyone in your group. This way, you explore the fondest region of Nepal with minimal price & time.
Private Everest Base Camp Helicopter Tour Cost
Another cool option for this journey is to take the tour privately. It means you can book a helicopter for traveling with your loved ones. Even if you're single, you can't opt for it to enjoy the tour all by yourself.
This type of our is indeed the perfect option regarding safety too. Looking at the current scenario of COVID-19, there, you can maintain social distancing. Also, you won't be sharing the space with anybody, so the chances of infection are less.
Hence, if you love absolute comfort and avoid strangers, go for this option. It will cost around $3650 per person. Along with this, we can even arrange a personal English-speaking guide to accompany you. So, if it matches your budget, there is no better option than a Private EBC tour.
Thus, you saw the option, you got to know their prices. The prices somehow come in the range of trekking expenses. So, to escape such a strenuous trek, make full use of this amazing yet affordable helicopter ride.
EBC Helicopter Tour Route
Kathmandu – Lukla – Phakding – Namche Bazaar – Tengboche – Dingboche – Lobuche – Gorakshep – Everest Base Camp – Kala Patthar – Everest View Hotel – Lukla – Kathmandu
The route of the EBC heli tour is simple, subtle, and scenic at the same time. As mentioned earlier, your trip will start from Tribhuvan International Airport, Kathmandu. Right after it begins, you'll fly over Bhaktapur, Nagarkot, and Dolakha. Do enjoy the scenic view of the valley & surrounding peaks like Ganesh, Gaurishankar.
From there, the helicopter heads to the Khumbu region. You will fly over the famous Khumbu settlements like Namche, Tengboche, Lobuche, Gorakshep. Finally, you will land at Kala Patthar and enjoy the panoramic view. If the weather is favorable, landing at Everest Base Camp will be possible. However, you can enjoy the iconic view of Khumbu falls & glaciers from above.
After the exploration, the helicopter will retrace the same path. To further explore the Sherpa settlement, it'll land at Everest View Hotel. There, you can have your breakfast enjoying the fabulous view surrounding peaks including Everest.
Later, your flight might land at Namche Bazaar or Lukla Airport for refueling. While returning to Kathmandu, you can once again reminisce the stunning aerial angular view of the mighty Himalayas.
Things to Consider for EBC Helicopter Tour
Before you opt for the Everest Base Camp Helicopter tour, there are certain things that you need to consider. Here, we have made a detailed list of such aspects.
i) Weather Condition of  Everest Base Camp tour.
Our Everest Base Camp Helicopter Tour highly depends on the temperature & climate of the region. And the Everest region is well known for its unpredictable weather. So, depending on the weather of your actual day, there are chances of flight delays and even cancellation.
But, you shouldn't worry much about it as we have a very flexible policy. Even if the flight for the day is canceled, we will try to reschedule it for the next day. We'll try as much as we can to give you wholehearted satisfaction. To know further about the policy, you can jump to the cancellation policy.
Regarding the weather, it's highly recommendable that you opt for this tour from March-June. It's indeed the best time to experience the unhindered view of towering peaks. As the weather is pleasant there is less chance of climatic extremities.
Other than that, it's also a fact that the Everest Base Camp Helicopter tour is possible any time of the year. Just be prepared according to the weather you will be traveling and we are good to go!
ii) Clothing
To ensure a comfortable ride along the journey, proper clothing is a must. This tour will not take as long as other treks or tours. So, you don't have to worry about packing heavy bags and getting loads of clothes. However, you should pay attention to what you will be wearing.
The clothing would definitely depend on the season you are visiting the place. But, the basic is to wear layers even if the weather is normal. It's to deal with the high altitude and speed of wind there.
Besides the altitude, the intensity of sunlight is also high. So, you need to take care of overall everything. Thus, here we recommend a checklist of some clothing gear for the EBC heli tour that'd be great:
100% Insulated down jacket to protect you from chilly wind & cold climate and keep you warm.
 A pair of good windproof warm trousers keep your legs warm & comfortable during cold & windy weather.
Comfortable hiking boots offer extra support around the ankle, making them ideal for traveling at such altitudes.
Winter Gloves, hats, Scarves provide much-needed extra warmth when you're at the top.
Sunscreen with SPF more than 30 reduces your overall UV exposure, which you're prone to.
100% UV rays protected Sunglasses offers both UV-A & UV-B protection to block at least 99% of ultraviolet radiation
Reusable water bottles & snacks (energy bars, chocolates) to give you hydrate and full of energy
Toilet papers and other toiletries for a hygiene emergency
Camera, cell phones, and recorders so that you won't miss clicking precious moments at the lap of Mt. Everest
Lip balms preferably with sun protection to avoid chapping
Comfortable innerwear like underwear, sports bra
Warm hat/beanie and a wide-brimmed sun hat to keep you warm & protect you against direct sun rays
iii) Weight Limit
The average weight limit for the Everest Base Camp helicopter tour is 500 kilograms. And that means there can only be a maximum of six people in the helicopter including the captain. Other than that, the numbers may vary depending on the weight of the person on your trip.
iv) Flying Options:
There are various flying options for Everest Base Camp Heli Tour. It's specially targeted at people traveling alone as well as in groups. Hence, the options provide them the preferred choice that meets their sophistication.
All in all, you get two flying options; the first one is Private Heli Tour. This tour is for those explorers who want to be up close to the high Himalayas in person. A helicopter will be privately booked for you and you can enjoy your own space without any disturbances.
While the next one is a Group Heli Tour. It's an economical option than the previous one. This is for the one who is comfortable enough to share the space with other travelers. The main advantage of this choice is the shared expenses. Also, you meet a lot of fellow travelers and have a great journey ahead.
v) Miscellaneous Notes
There are few other things to remember for Everest Base Camp Heli Tour. They are:
Note that there is no toilet on board. So, you should be prepared likewise, else you have to wait until the helicopter rests at its first point.
There are chances you can feel a little claustrophobic at first while onboarding. But it will be over after your helicopter takes off as the beautiful scenery will make you forget everything.
There are no exact age barriers for this tour but travelers with heart problems or any serious medical conditions shouldn't opt for such a high-altitude trip.
Similarly, the helicopter tour is not accessible for wheelchairs.
Although there aren't many criteria, travelers must ensure a moderate level of fitness
Also, make sure you carry a valid passport with a valid visa on the day of travel
Similarly, you should be aware of the flights getting delayed or canceled. If it happens, that'd be most probably due to bad weather or poor visibility. In such a case, we will try to reschedule your flight for the next possible day. Thus, it is recommendable to plan for one or two extra days for safety.
Benefits of Everest Base Camp Helicopter Tour
There are a lot of benefits you get via opting for the Everest Base Camp Heli Tour. So, we have enlisted those benefits and here they go:
i) Super easy & Hassle-free
Everyone knows very well that Everest Base Camp trek is of difficult grade. You have to walk at a high altitude of 5000 meters and there are many things you need to take care of. From packing a proper backpack to looking after food, accommodation can be a hassle.
Contrary to the regular trek, Everest Base Camp Helicopter Tour is super easy. You don't have to trek or look after a long checklist. It's comfortable, restful, and open to people of all age groups.
You only have to make a choice and we will look after everything. We will also pick you from the airport and take you to your destination. So, it's like a luxury tour that offers great scenic views right after you take off. Moreover, it's completed in a day and doesn't require any form of physical training or preparation. Thus, it's the super easy, hassle-free, and luxurious tour ever!
ii) Time Efficient
Undoubtedly, Everest Base Camp Heli Tour is the fastest option to reach Kala Patthar or Everest Base Camp. So, it's the perfect option for those who have limited travel time. Also, the tour is feasible at any time of year. Hence, any time when you're here in Nepal, don't miss any chance to leave your footsteps in the Himalayas with the heli tour.
So, the time limit will never be the reason you miss the highest base camp in the world. So, when are you gonna meet your dream of flying over the greatest Himalayan range?
iii) Full Flexibility & Protection
Trekking at such a high altitude carrying heavy bags is always a risky journey. On the way, the weather could get worse and there is always a chance of altitude mountain sickness. Because of such unpredictable reasons, many treks to EBC are unsuccessful.
To avoid this risk, you can completely depend on the EBC heli tour. It's one of the safest mediums that equally provides a lot of flexibility. We ensure that you get experienced pilots and guides. Likewise, you can always rely on the helicopter you're traveling. It's well tested.
About flexibility, you can make it more luxurious by choosing the price heli tour. You will have your own space and get one-to-one interaction. Also, you can opt for it with your family or loved ones. The whole choice, fun, and pleasure of adventure are all yours!
iv) Top Angle Views
We have to admit that the view you get via heli tour is just incomparable. Those top-angle views are something just outstanding & breathtaking. They are different from the ones you see while trekking.
Yes, trekking does provide panoramic views all along your way. But, there is no way trekkers can get such an up-close view as they can get on the heli tour. In the tour, your eyes will resemble a flying drone. It shall capture jaw-dropping views of numerous mountain ranges.
Not only can the majestic view of the Himalayas, but other views like that of valleys, glaciers, ridges, waterfalls are also equally captivating. So, the Everest Base Camp Helicopter tour wins in terms of mesmerizing top-angle views too.
v) Ample Exploration
One may think that the tour may not give you enough time for exploring the vantage points you will land. However, this isn't true. You will get more than enough time to glance at the mountains surrounding you. Also, if the weather supports, we will land at Everest Base Camp along with Kala Patthar. So, you will get enough time to explore, enjoy, and capture all those lovely moments.
vi) Emergency Service & Safety Management
In the Everest Base Camp Helicopter tour, we fully look after your safety & all emergencies that might come on your way. For instance, if you fall ill while on the trip in the helicopter, it will immediately take you to the nearest hospital. Likewise, for minor cases, we will have a well-prepared first aid as a backup.
Also, looking at the high altitude, we will be carrying enough oxygen supplies. Note that those supplies will be automatically turned on as the helicopter reaches an altitude of 3000 meters. Thus, you can see as per the service & management, the tour is safe for kids and adults of all age groups.
vii) An Overall Luxurious Trip
The tour to the world's highest base camp; EBC and luxury may sound like two different things. But, Helicopter tour to Everest has made this possible. You can opt for luxury accommodation while you're in the city and take the flight the next day.
After you take off, you will be up close with gigantic peaks within hours. You get to explore vantage points like EBC and Kala Patthar to their fullest. If you want to add, you can even have breakfast at Hotel Everest View. It's one of the highest placed hotels in the world. There, you can enjoy a 360-degree view of the Himalayas.
Cheers as you can witness Mt. Everest while having your meal. And not to forget, the hospitality of that region will always remain in your heart. So, with a wide range of add-ons & choices, heli tour Everest is going to be the best experience of your life!
Some Useful Information for Everest Base Camp Helicopter Tour
Here is some more useful information for the trip:
i) Age-limit for Heli Tour
Helicopter tour to Everest Base Camp is possible for people of all age groups. It's because of the safety and comfort provided by the trip. The flight is of low altitude so there is no risk of altitude sickness. Plus, it's fully free of the strenuous walk. Thus, it's great for kids as well as old citizens.
Also, the person with a physical disability can opt for this and witness the Himalayas. So, the tour welcomes everyone on board. And everyone can enjoy it without worrying about stressful preparation or any special trekking gear.
ii) Maximum Number of People to Take the Tour
The EBC heli tour comes with options for both private as well as group tours. So, the number of people will depend on the type of tour you go with. Private heli tours are the ones that let you explore the high Himalayas up close & one-to-one. On this trip, there would be a minimum of one traveler along with the captain & guide. However, you can join your loved ones to enjoy this exclusive & luxurious trip.
Whereas, in the group, you will share the space with others. The number in the group can range from two to six people. Other than that, it might vary depending on the helicopter you ride. This choice is an economical one and helps you meet a lot of other travelers.
With this info, also please note that our tours are on a charter basis. So, feel free to contact us to accommodate and customize your trip according to your budget & personal preferences.
iii) Total Time for EBC Heli Tour
The Heli tour to EBC is the shortest & easiest way to encounter the mighty Everest. It's the perfect option to save time & effort and accomplish your dream vacation. So, it must not take much time to complete. You can allocate only a day for it as it completes in about four hours. To know the exact timing, do go to the detailed itinerary of the Everest Base Camp Heli tour.
Not only the trip, but the preparation also doesn't take that long. You will be able to manage all the necessary things just a day before your trip too.
Moreover, the trip ends after a few hours, so you can plan various things for the remaining day. For instance, you can go sightseeing in Kathmandu or even fly to Pokhara from EBC. Thus, this exciting trip also provides you time to explore more places.
iv)Useful Information about Helicopters
To ensure full safety, we make sure we arrange well-maintained & reliable helicopters. And it makes us proud to announce we've been arranging safe, reliable, and comfortable helicopter tours for years.
For the Everest Base Helicopter tour, the helicopter will depend on your group size. The more people you have in your group, we will take a helicopter with more capacity.
All in all, there are four types of helicopters available for the tour. These helicopters have double rooms and wide cabins. The use of these models will also depend on the area & altitude. Further, these helicopters are the most versatile ones and are suitable for high altitude flying.
Model AS250 H125
Manufactured by Airbus, France in January 2015.
Its engine type is Aerial 2D.
Can carry 7 passengers.
Has a maximum take-off weight of 2250 kilograms
Can operate at an altitude of 7010m/23,000 ft.
Model AS350B3E
Manufactured by Airbus, France.
It also has an engine type Aerial 2D.
Can carry 6 passengers on low land, 5 people on Highland (Excluding Pilot)
Has a maximum takeoff weight of 2250 kilograms
Can operate at an altitude of 7010m/ 23000 ft.
Model AS350 FXII
Manufactured by Airbus, France.
Its engine type is LTS-101-700D2
Can carry 7 passengers.
Has a maximum takeoff weight of 2250 kilograms.
Can operate at an altitude of 5791m/19,000 ft.
Model Bell Jet Ranger 206B III-9N-ALL
Manufactured by Bell Helicopter, USA.
Its engine type is 206B-3.
Can carry 7 passengers.
Can operate at an altitude of 7010m/23,000 ft.
Has a maximum takeoff weight of 675 kilograms.
Booking terms & conditions/Cancellation policy for EBC Heli Tour
The Everest region is well-known for its uncertain weather conditions. Hence, there are chances of flight cancellation, if the weather gets bad. You don't have to worry because we will have a proper backup for such conditions.
You can go through the following cancellation policies for that:
If the flight is canceled because of the weather, we can reschedule the trip for the next day or any day as per your availability. Or, you can also get a refund if your timings aren't available.
If you cancel your trip 24 hours before takeoff, then only you get a full refund.
You can reschedule your trip as per your preference. For instance, if you reschedule the trip 24 hours before the scheduled date, there won't be any extra charges.
Other than that, while booking the trip, we will need your full credentials like copies of your passport, photos, etc. And also, don't forget to carry all the necessary documents on the onboarding day.
So, be ready to embrace a true once-in-a-lifetime experience. We affirm the journey will be more exciting with us!
You may also like: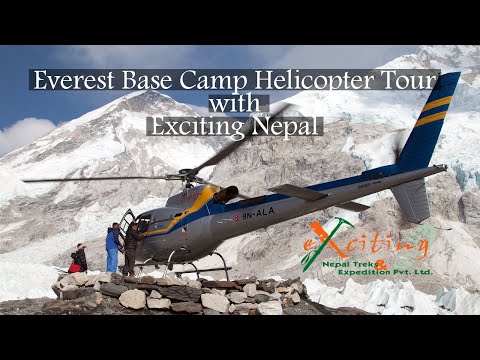 Outline Itinerary of Everest Base Camp Helicopter Tour
TIA, Kathmandu to Lukla Airport: 45 minutes with 10-15 minutes of fueling time
Lukla to Kala Patthar: 15 Minutes with 10-15 minutes of landing time
Kala Patthar to Syangboche (Everest View Hotel): 12 minutes with 45 minutes for breakfast
Syangboche to Lukla: 15 minutes with 10-15 minutes of landing for refueling
Lukla to Kathmandu Airport: 45 minutes
Detailed Itinerary of Everest Base Camp Helicopter Tour
Here is the breakdown of the detailed itinerary for the Everest Base Camp Helicopter Tour:
At 05:50 AM: Wake Up and Get Ready
You will wake up early in the morning and prepare for the tour ahead. Our representative will pick you from your hotel via a private vehicle. They will drop you at the Tribhuvan International Airport, from where your journey starts!
At 6:30 AM - 7:00 AM: Arrival at Airport and Check-In
You will be at the airport by 6:30 AM and start the check-in time process. You don't have to bother much as your guide will look after it. But, make you carry all the necessary documents like passport & tickets. After the official verification, you will be ready to take the fight.
At 7:00 AM - 08:00 AM: Fly from Kathmandu to Lukla Airport (2860m)
So, your journey begins and astounding aerial views start welcoming you. It begins with the view of Kathmandu valley. You can easily spot some of the famous sites like Swayambhunath (Monkey Temple), Boudhanath Stupa.
Then, you head eastward toward Dolakha. The views start getting more pleasant with the panoramas of Jiri Village. There are also nearby peaks like Mount Ganesh and Gaurishankar glazing in light.
After the lush green hills, the view shifts to the alpine vegetation as you reach the Khumbu region. The beautiful view of Sherpa's settlement welcomes you at first. Right with it, the surrounding peaks also start appearing. Overall, your journey has just started yet the views are already spectacular. You will land at Lukla Airport after flying for about 45 minutes.
At 8:00 AM - 8:15 AM: Flight Refueling at Lukla
Upon landing at Lukla, the helicopter will take some time to refuel. Until then, you can enjoy the refreshing environs of Lukla. You can witness local Sherpa culture & lifestyle. Also, you will meet your Sherpa guides there. So, you have a full chance to know a lot of things even in this short time.
At 8:15 AM - 8:30 AM: Fly to Kala Patthar (5643m)
After the refueling, you will directly fly to Kala Patthar. On the way, you witness the stunning view of the whole Khumbu valley. Your flight will eventually follow the way to Namche, Tengboche, Dingboche, Gorakshep, and eventually Kala Patthar.
The view of these settlements, Tengboche monastery, Everest Base Camp is amazing. Don't forget to spot the Khumbu Falls & glaciers. Along with it, the aerial panoramic of surrounding mountains starts getting closer. After 15 minutes of flying, you will reach the vantage point; Kala Patthar.
At 8:30 AM - 8:45 AM: Exploration around Kala Patthar
Now that you are at the highest point of your trip, you're free to explore it your own way. You can take photographs, film the moment, or have some calm time amidst the mountains. This experience is going to a mind-blowing one.
You will have the closest view of Mount Everest, Nuptse, Cho Oyu, Pumori, Langtang, Amadablam, Cholatse, Tamraseku, and more. Undoubtedly, you will fall in love with the serene environment.
All in all, you will have 15 minutes to explore around. Though this time limit may sound short, it's adequate to enjoy & capture the splendid views for a lifetime.
At 8:45 AM - 9:00 AM: Fly to Everest View Hotel, Syangboche
Your trip to Everest is more than just the sightseeing at Kala Patthar. After Kala Patthar, you head to one of the highest places in the world; Everest View. Situated within Sagarmatha National Park, it's famous for the 360-degree view of majestic peaks. You will get there within 15 minutes and get the warmest welcome ever.
At 9:00 AM - 9:45 AM: Breakfast at Everest View Hotel (3880m)
Hotel Everest View is famous for its delicious cuisine and offers the best service in the Khumbu region. Hence, having breakfast there after an hour of flight will be relaxing. You can enjoy a variety of meals like Continental, Japanese and more.
At an altitude of 3880m, it's going to be a wholesome experience. Also, after that, you can have a quick stroll around the hotel. It has the most interesting interiors, made with hand-carved stones. Else, you can simply enjoy the time glancing at the snowy peaks from your table. The total time allocated here is about 40-45 minutes.
At 9:45 AM - 10:15 AM: Fly to Lukla & Refueling
After another memorable moment in the Everest region, it's time to head back. From the hotel, you will fly back to Lukla. You can once again enjoy the astonishing view of the Himalayas. You will retrace the aerial path, so try to spot the places you missed before. Upon reaching Lukla, it will take a few minutes to refuel the helicopter and you're good to go.
At 10:15 AM - 11:00 AM: Back to Kathmandu
Finally, it's time to bid goodbye to the Everest region and go back to Kathmandu. You can have a final look down on Namche, Lukla, Phakding, and surrounding landscapes. Don't forget to spot new scenes on your way back as you did before. After 45 minutes of flight, you will reach Kathmandu. Your Everest Base Camp helicopter tour ends here.
Upon your return, our representatives will drop you back at your hotel. We will hope you had a great trip and look forward to serving you in the future too!
Trip Cost US$ Starts at US$999 Per person
Cost Includes:
Airport pick up and drop from your hotel
An experienced and English speaking Guide
A chartered Helicopter with an experienced pilot
Necessary permits and entrance fee for Sagarmatha National Park
All government and local taxes
Company service charges
Emergency oxygen available inside the helicopter
Cost Excludes:
Nepal Visa-International Airfare
Personal and Medical Insurance
Personal gears and expenses
Any meal, accommodation, or drinks
Breakfast at Everest View Hotel
Q1. How to book an Everest Base Camp Helicopter Tour with your company?
Booking the EBC Heli tour with us is a completely simple & hassle-free process. Simply, go to our website & navigate to the 'Book Online' page for the tour package. There, fill in the necessary information & submit, we'll take it from there. Also, if you have any queries about the tour, you can contact us without any hesitation.
Q2. Is the Everest Base Camp Helicopter Tour safe for me?
Without any doubt, helicopter tour to Everest is not only the easiest but also the safest one. It doesn't include any strenuous walk & preparation. Also, we verify the helicopter you're riding is well-maintained and the pilots are experienced. Besides that, we shall take care of everything that comes up on the trip to ensure 100% safety.
Q3. Are the pilots/captain experienced enough?
This is something that relates to your safety & overall comfort. So, there is no way we're compromising on this aspect. Definitely, our pilots or captains are professional and excel at what they do. Also, they have full knowledge of mountains and the Everest region.
Moreover, they are well-trained & prepared for any emergency. With proper medical knowledge, they will help you in case you get some onboard sickness.
Q4. Is there any age limit for this heli tour?
Everest Base Camp Helicopter tour is open for all. There is no age bar to join the trip. Anyone wishing to explore the Everest region can opt for this tour. Even the ones with physical disabilities are free to enjoy this amazing tour.
But, having said that, people with heart disease & other medical conditions should be aware. It's better to get an expert consultation before opting for the journey.
Q5. What is the maximum number of people that can join in the heli tour?
We need a proper balance in the helicopter to ensure safety. So, there can't be more than 5-6 people on board at once. However, the number may also vary on the weight of individuals and the helicopter you're riding. But, on average, the weight limit that a flight can hold is about 500 kilograms.
Q6. What is the maximum altitude the helicopter will take us around?
The helicopter takes off from Kathmandu, at 1300m to Kala Patthar, at 5545m. So, Kala Patthar is the highest landing point for the Everest Base Camp Helicopter Tour. Other than that, the helicopter can go from 5000-6000m up in the air. That attitude would depend on the engine power of the helicopter too.
Q7. Are there chances of getting Altitude Mountain Sickness (AMS)?
There are very thin chances of getting AMS on this trip. You will be flying at a significant altitude and within a small cabin, so you might feel claustrophobic. In that case, you can use the oxygen cup to breathe comfortably.
Q8. Are there oxygen tanks during this Helicopter trip to Everest Base Camp?
Yes, we will be carrying enough oxygen cylinders with us. After all, your safety is always our major priority.
Q9. What happens if bad weather hits and the flight doesn't take off?
Weather in the Everest region is hard to predict due to their paramount heights. Sometimes the bad weather hits and flight may not take off. In that case, we'll fix your tour the next morning. If you are unable to take the next scheduled flight, you can also get a refund. But that would depend on booking terms & conditions.
Q10. Are there any hidden charges?
No, there aren't any hidden charges for this helicopter trip. You can thoroughly go through our 'Price Includes & Excludes' section for more info.
Q11. Will there be enough time for exploration on this tour?
Yes, you will have enough time to witness the amazing vistas at Kala Patthar and at the Hotel Everest View too.
Q12. Won't the helicopter land at Everest Base Camp during this tour?
That will mainly depend on the weather conditions. It's because of the high wind speed that makes the landing at EBC challenging. Also, due to landslides, the landing spots are risky too. So, the best option to land and enjoy the view of Mt. Everest is Kala Patthar.
Q13. I am a Solo Traveler. Can I take the Everest Base Camp Helicopter Tour?
Definitely, you can. Do contact us and we will customize the trip as per your preference.
Q14. Can we take kids on this heli tour?
Of course! Since there isn't any specified age limit for this trip, the kids can enjoy the experience too.
Q15. Can we fly over directly to Mount Everest?
No chopper can fly to Everest, at an altitude of 8848 meters. Due to the thin air and unstable weather conditions, it's that way. However, Everest Base Camp in Helicopter tour with landing takes you to the nearest point. All the mighty peaks appear to be only just a few miles away.